Trump to approve Iran nuclear deal for last time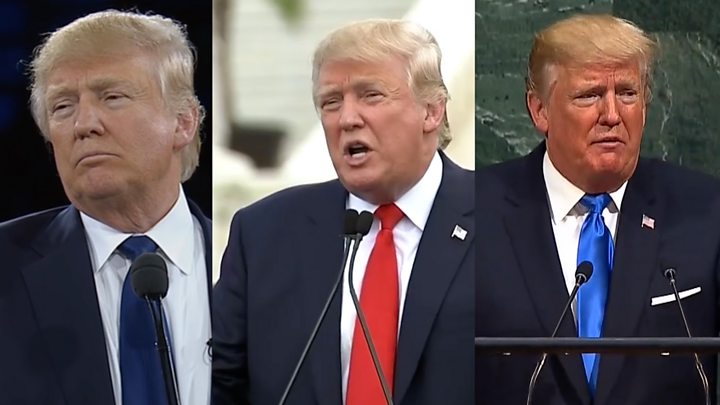 US President Donald Trump will approve the Iran nuclear deal only one more time before abandoning it if it is not changed, White House officials say.
The waiver he will sign suspends US sanctions on Iran for 120 more days.
The White House wants a deal with EU signatories to make restrictions on Iran's uranium enrichment permanent. Under the current deal they are set to expire in 2025.
Mr Trump also wants Iran's ballistic missile programme to be addressed.
The landmark deal was signed between six global powers and Iran in 2015.
It saw Iran agree to drastically reduce uranium enrichment activity, dispose of its enriched uranium stocks and modify a heavy water facility so it could not produce material suitable for a nuclear bomb.
In return, decades of international and US nuclear-related sanctions were suspended, and the US president must sign a waiver suspending them every 120 days.
But Mr Trump has strongly criticised the deal, reached under his predecessor President Obama.
"This is the last time he'll issue waivers unless they reach an agreement," senior White House officials said.
European powers say the accord – known formally as the Joint Comprehensive Plan of Action (JCPOA) – is vital for international security.
The US still maintains separate sanctions on Iran related to matters such as terrorism, human rights and ballistic missile development.
Meanwhile an Iranian politician said Iran "will not mourn" if the US pulls out of the nuclear deal.
First Vice-President Eshaq Jahangiri said in a post on his Instagram page that the US would "lose out" if they withdrew from the deal.
Iran says the missiles it has tested are not designed to carry nuclear warheads and insists its nuclear programme is entirely peaceful.