Trump denies crude slur against migrant countries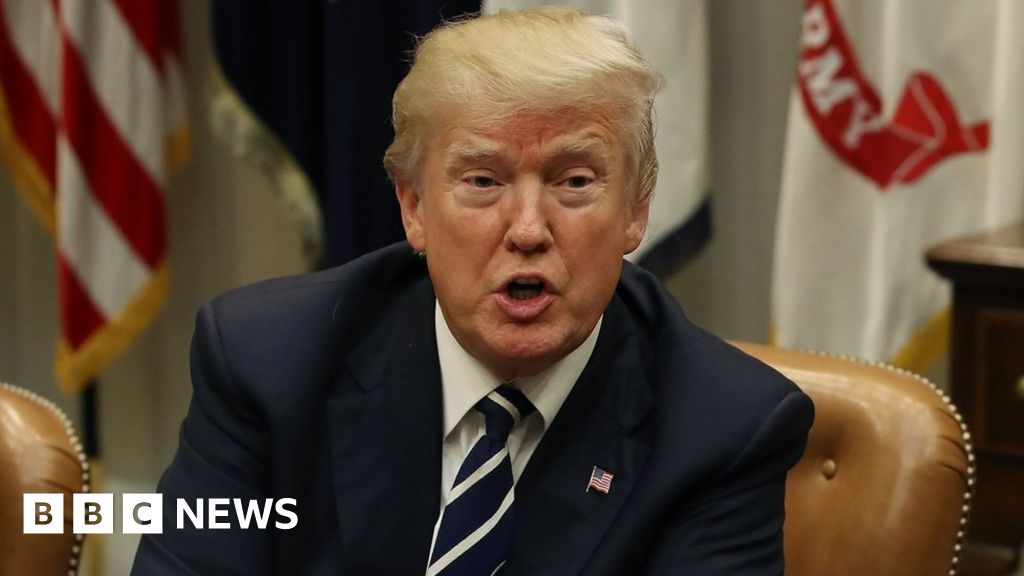 US President Donald Trump has denied using crude words attributed to him about Haiti, El Salvador and African countries.
Reports that he had called them "shithole countries" in an Oval Office meeting generated a backlash worldwide.
One UN official called the remarks racist and said they opened "the door to humanity's worst side".
But Mr Trump has tweeted that "this was not the language" he used in a meeting about immigration.
He wrote that the language he used was "tough, but this was not the language used".
What was he reported to have said?
Mr Trump's reported remark came as both Republican and Democratic lawmakers visited him on Thursday to propose a deal on immigration.
Mr Trump was said to have told them that instead of granting temporary residency to citizens of countries hit by natural disasters, war or epidemics, the US should instead be taking in migrants from countries like Norway.
He was quoted as saying: "Why do we need more Haitians? Take them out."
The Washington Post, the New York Times, Politico and the Wall Street Journal all reported the comments, quoting eyewitnesses or people briefed on the meeting. The White House did not deny them.
On Friday, Mr Trump tweeted that the deal offered to him was "a big step backwards" that would not "properly" fund the wall he plans to build at the Mexican border and would force the US to take "large numbers of people from high-crime countries which are doing badly".
He wrote that he wanted "a merit based system of immigration and people who will help take our country to the next level".
What reaction had the reports provoked?
Botswana summoned the US ambassador to "express its displeasure" at what it called "highly irresponsible, reprehensible and racist" comments.
The African Union (AU) said it was "frankly alarmed" by Mr Trump's statement.
Rupert Colville, a UN human rights spokesman, said: "If confirmed these are shocking and shameful comments from the president of the United States. I'm sorry but there is no other word for this but racist."
In the US, the National Association for the Advancement of Colored People (NAACP) accused the president of falling "deeper and deeper into the rabbit hole of racism and xenophobia".
Mia Love, a Utah Republican and the only Haitian-American in Congress, demanded an apology from Mr Trump for the "unkind, divisive, elitist" comments.
Another black lawmaker, Cedric Richmond, a Democrat, said the comments were "further proof that his Make America Great Again agenda is really a Make America White Again agenda".