Migrant ship row: Italy-France ministers' meeting postponed
Italy's Economy Minister Giovanni Tria has postponed talks scheduled for Wednesday with his French counterpart amid a row over a migrant ship.
A French official said the ministers had agreed by phone to meet in the coming days instead.
The development came on a day of diplomatic twists between the nations.
Earlier, Italy had summoned the French ambassador after France's president attacked it for not allowing a rescue boat to dock.
There were also suggestions that a scheduled meeting between Italy's Prime Minister Giuseppe Conte and French President Emmanuel Macron should not go ahead in Paris on Friday.
Italy's new Interior Minister Matteo Salvini said it "would be right not to go to France" unless Paris officially apologised for its comments on the rescue ship.
What was the row about?
On Sunday, Italy refused to allow an NGO ship with 629 rescued migrants aboard to dock in its ports.
Spain said it would give "safe harbour" to the ship, the Aquarius, to avoid a humanitarian disaster – but French President Emmanuel Macron said Italy had been "cynical and irresponsible" to turn it away.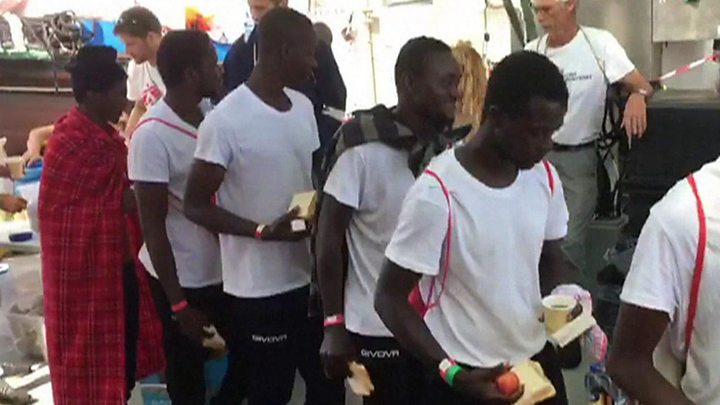 A spokesman for Mr Macron's party described the Italian government's position as "sickening".
"It's unacceptable to play politics with human lives, which is what is happening at the moment," Gabriel Attal told the Public Senat channel.
The criticism angered Italy, and Prime Minister Giuseppe Conte hit back at France, calling its stance on migrants "hypocritical".
Italian Deputy PM Luigi Di Maio added: "I'm glad the French have discovered responsibility. If they want, we will help them. Let them open their ports and we will transfer a few of the people to France."
He criticised "countries that have always preferred to turn their backs when it comes to immigration".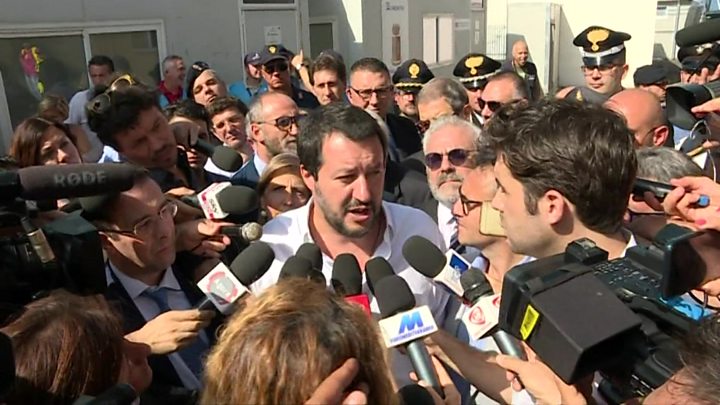 What is the situation of migrants in Italy?
Most migrants who survive the perilous voyages from North Africa end up in overcrowded Italian camps.
Among them are refugees fleeing war and persecution, who have a right to asylum.
In the past five years, Italy has taken in more than 640,000 mainly African migrants.
Are other ships caught up in the dispute?
Yes, in the short and longer-term.
On Wednesday an Italian coastguard vessel docked on the Italian island of Sicily, carrying 937 migrants and the bodies of two people who had died making the voyage.
The fate of the ship, the Diciotti, highlights the difference in the government's attitude to Italian ships and those linked to foreign NGOs.
The Diciotti had picked up the migrants off the coast of Libya and was allowed to land as it was carrying out a government mission.
But Mr Salvini has insisted that NGOs operating rescue ships in the Mediterranean under other countries' flags have no right to bring immigrants to Italy.
He has previously said he is considering action against organisations that rescue migrants at sea.
What has the wider reaction been?
The UN's refugee chief Filippo Grandi has urged the EU to address its "shameful" refugee policy, and "reform its asylum system in a collective manner".
"As a European, I felt shame – shame – that there was a boat – there is a boat – in the Mediterranean, and for several days nobody wanted to take these people," Mr Grandi told Reuters.
France's foreign ministry has said that it is "perfectly aware" of the strain Italy is under as it negotiates an influx of migrants from Africa.
It said France is "committed to co-operation and dialogue" on the issue.
Austria's Chancellor Sebastian Kurz said that the interior ministers of Austria, Germany and Italy have formed an "axis of the willing" to tackle illegal EU immigration.
BBC Europe editor Katya Adler says that as a result of Italy's moves this week, European leaders are being spurred into action, or are at least considering it far more seriously.
Read more: Katya Adler's full blog post on the Aquarius row