Maple Leafs miss chance to end 15-year drought as Bruins force Game 7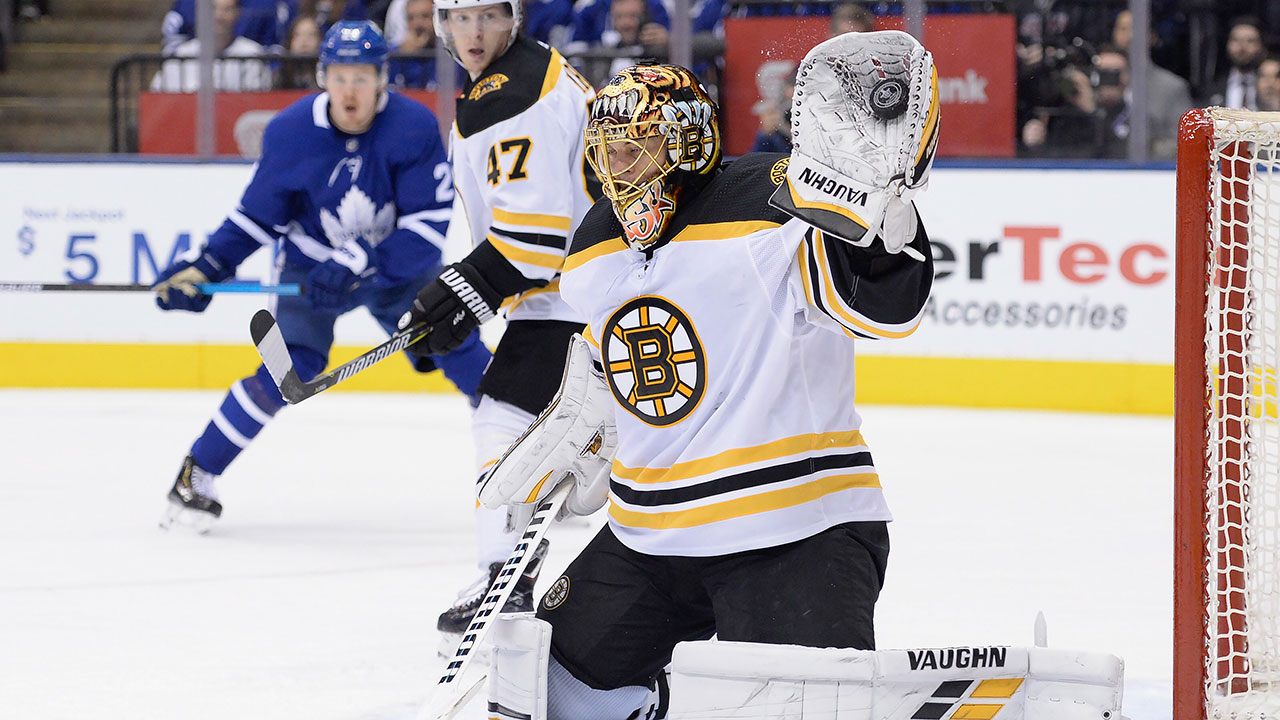 TORONTO — There was a sense of occasion in the air early, with the blue and white sweaters already starting to gather around Scotiabank Arena when Tuukka Rask strolled up to the rink around lunchtime.
The chance to win a playoff series is a once-every-15-years proposition in these parts and the populace was ready. The only problem was the Toronto Maple Leafs weren't quite up to the task, unable to match the desperation of the Boston Bruins in a nail-biting 4-2 loss on Easter Sunday.
Playing for its season, Boston was better all over the ice.
"Obviously it's a big day for us, and you can feel the tension, the excitement," said Brad Marchand. "You know, there's a lot of emotions going on right now, but that's hockey. And that's playoff time, that's part of what makes it so exciting."
And now, they don't get much bigger than this: Another Game 7 at TD Garden on Tuesday night.
Toronto had a chance to end it here, but saw the Bruins fend off a third-period rally after Auston Matthews made it 3-2 at 4:15. His fifth goal of the series came on a perfect shot that went post and in.
They continued to push until Marchand sealed it with an empty-netter.
The Leafs had an energetic start, coming in waves at Rask.
There was an early 2-on-1 chance and Morgan Rielly hit the left post behind the Bruins goaltender before opening the scoring on the next shift by hammering home a William Nylander pass.
The good vibes started to slip away when Tyler Ennis took a holding penalty and Marchand beat Frederik Andersen with a shot that glanced off Ron Hainsey's shin pad. Torey Krug made it 2-1 at 17:02 on another Boston power play with a quick short-side wrister past Andersen — giving the Bruins their seventh power-play goal of the series.
When the second period began, it was all Boston. A Leafs team that had boasted about its speed appeared stuck in quicksand while seeing the visitors pour 12 straight shot attempts towards their net, failing to execute on the game plan laid out by Mike Babcock a couple hours before puck drop.
"You've got to play in their zone. That would be the one priority," said Babcock. "Obviously we've talked a lot about this, is you want to spend as much time in the offensive zone as you can.
"It's more fun and it's safer."
There was no safety to be found in chasing from behind, and Boston found itself with some quality scoring chances as a result. One of those came on a 2-on-2 where Jake DeBrusk managed to slip free of a backchecking Andreas Johnsson and deflect home a David Krejci pass to make it 3-1.
That was enough for the Bruins to survive another day.