Jamie Carragher spitting incident: Sky suspends pundit until end of season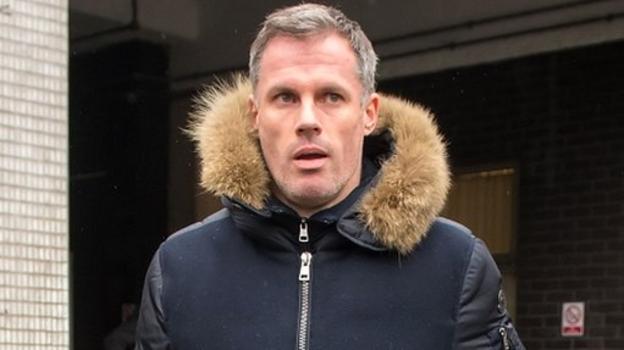 Former Liverpool and England defender Jamie Carragher has been suspended by Sky until the end of the football season after he spat at a car.
Carragher was filmed spitting from his car towards a girl in another vehicle after Liverpool's 2-1 Premier League loss at Manchester United on Saturday.
He has apologised over the incident.
The broadcaster says the 40-year-old, a Sky Sports pundit, will "get the help he needs to guarantee something like this never happens again".
Sky says the decision was made following an internal review, adding: "Before the start of the next season we will sit down with Jamie to discuss whether he is ready to return to his role."
Following his suspension, Carragher posted on social media to apologise again for a "moment of madness".
Greater Manchester Police have spoken to the motorist who filmed Carragher spitting towards his car.
Enquiries are continuing but it is understood both Carragher's actions and the filming of the incident while driving could be punishable.
What happened?
In the video, Carragher exchanges waves with the other driver before they both wind down their car windows.
The man can then be heard shouting: "Unlucky Jamie, lad. Two-one."
Carragher, who made 737 appearances for Liverpool and won 38 England caps, reacts by leaning out of his window and spitting towards the car, hitting the man's daughter, who is sitting in the front passenger seat.
Speaking to the BBC on Monday, Carragher said: "It looks awful and I accept that. It's not something I've done before and not something I'll do again.
"It's a stain on my character and I have to accept that."
Andy Hughes, 42, from North Wales has told the Mirror he has received death threats and felt "under siege" after being identified.
He added he wished he had never filmed the incident – and wants Carragher to keep his job at Sky.
On Wednesday, Carragher posted on social media: "I've made a big mistake and accept full responsibility. I am the only person to blame for this sorry situation, so please leave the family alone."