Happ, Blue Jays' bats bounce back against Mets
NEW YORK – The rain ranged from drizzle to heavy and fell steadily from before first pitch to beyond the final out at Citi Field on Wednesday, and somewhere in the mist J.A. Happ found his groove. The left-hander has been one of the Toronto Blue Jays' steadiest starters on the mound, but the rotation has been grinding and in his last time out the Seattle Mariners touched him up for seven earned runs in 3.1 innings.
Yet with his team needing a lift he fought through the conditions, which led to a break in excess of 10 minutes midway through the bottom of the third to clean up the puddles on the infield and make the mound safe, to take control of a game from the outset and set the tone in what finished as a 12-1 rout.
Starts like the one he delivered – seven shutout innings of two-hit ball with 10 strikeouts – have been strikingly rare for the Blue Jays (22-21), who avoided falling under .500 for the first time since an 0-2 start to the season. Only six times have their starters gone seven innings. Even rarer have been days when the offence and pitching work together in sync, with a balanced attack making for a low-stress day.
"He was outstanding on a tough day to play, whether you are a pitcher or anybody else," praised manager John Gibbons. "He held it together. He probably had the best slider's he had all year. He's having a good year for us. He can dominate and that's what he did today, and our bats came to life. We needed that, but I think we were overdue."
In winning for the first time in 12 road games versus the Mets, the Blue Jays recovered from a 12-2 drubbing a night earlier in which Jaime Garcia lasted only 3.2 innings and improved to 6-9 this month ahead of a four-game series with the Oakland Athletics starting Thursday.
The Blue Jays have had a rough couple of weeks in which they've made roster moves on 13 of the 16 days this month (Danny Barnes up, Deck McGuire down Wednesday was the latest), shuffled people in and out of playing time amid injuries and underperformance, and most crucially, have had to play a lot of catchup because the starters have been getting hit.
Against Zack Wheeler, the opposite happened as Justin Smoak opened the scoring with a solo shot in the first, a Teoscar Hernadez two-run shot in the fourth opened things up and a three-spot in the fifth on Josh Donaldson's RBI single and Smoak's two-run double put the game out of reach.
There were three more runs in the sixth on a Donaldson sacrifice fly, a Hernandez run-scoring single and a Kevin Pillar RBI single, while in the ninth Richard Urena's three-run homer padded things out.
Even Happ got in on the action with two hits, a walk and two runs – becoming the first Blue Jays pitcher to ever reach base three times in the same game and first pitcher to score twice since Roy Halladay on June 6, 2003.
"It was just a fun game. It was fun being on the bases a little bit and scoring a couple of runs and then pitching deeper into the ball game, so you have to feel good about that one," said Happ. "We've got to do our part, trying to put up zeros after we do score and we've done a good job this season of scoring late. But it's nice when we can hold them and then get on the board ourselves. I think there's a stat out there that's pretty good for teams that score first. So, that's nice."
The Blue Jays are now 13-4 when scoring first and 9-17 when they don't, so there's some merit there, but dominant starting pitching needs to be part of the recipe. Primarily riding a four-seamer that generated 13 swinging strikes on 56 pitches, Happ reached base more often than the entire Mets team while he was in the game.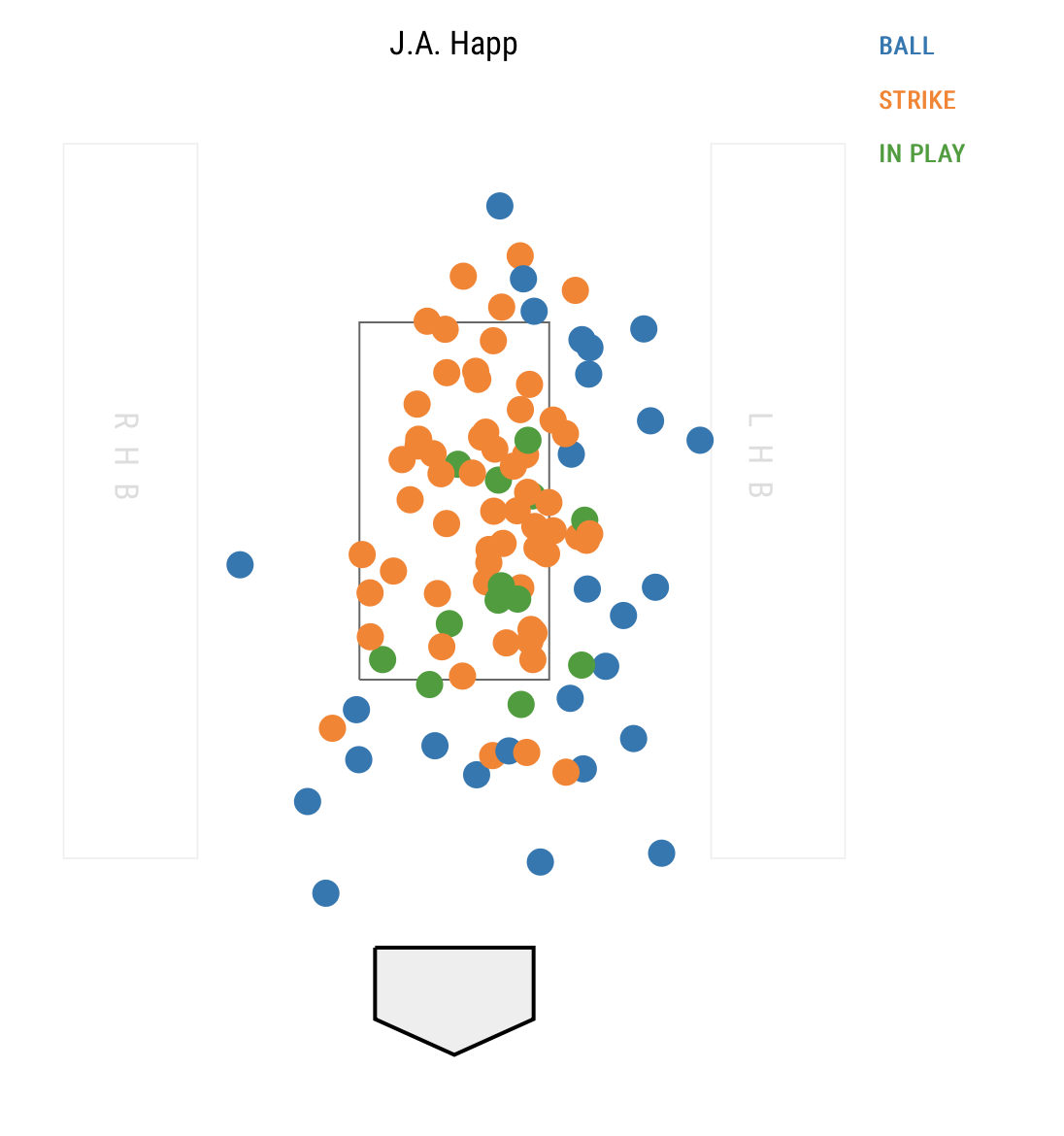 They only surpassed Happ with two outs in the ninth when Brandon Nimmo's solo shot off Barnes pushed them to three hits.
"I think getting ahead was the biggest thing, last time there was a lot of 1-0, 2-0, tried to get ahead today and that was a huge difference," said Happ, who threw first pitch strikes to 14 of the 23 batters he faced. Using the four-seamer so often was a product of "how I was feeling in my bullpen before the game, like what I felt like I could execute with throwing strikes. And I threw more four-seamers early in the count."
As a result, the Blue Jays didn't have to chase the game and enjoyed a victory in which they controlled play from start to finish, rain and all.
"It's interesting for us because we didn't go into the season, yeah, we're going to be the team that plays from behind and go, it just kind of ended up being that situation for us," said Curtis Granderson, who hit two doubles, walked and scored twice. "The good thing for us offensively is that it means we're not giving up at-bats late into the ballgame, no matter what the score is.
"Happ has been pitching very well all season long. Obviously you're going to have streaks where things don't go your way and sometimes they do. Today he had everything going really well for him."