Gruffalo illustrator Axel Scheffler blasts Brexit and 'may have to leave UK'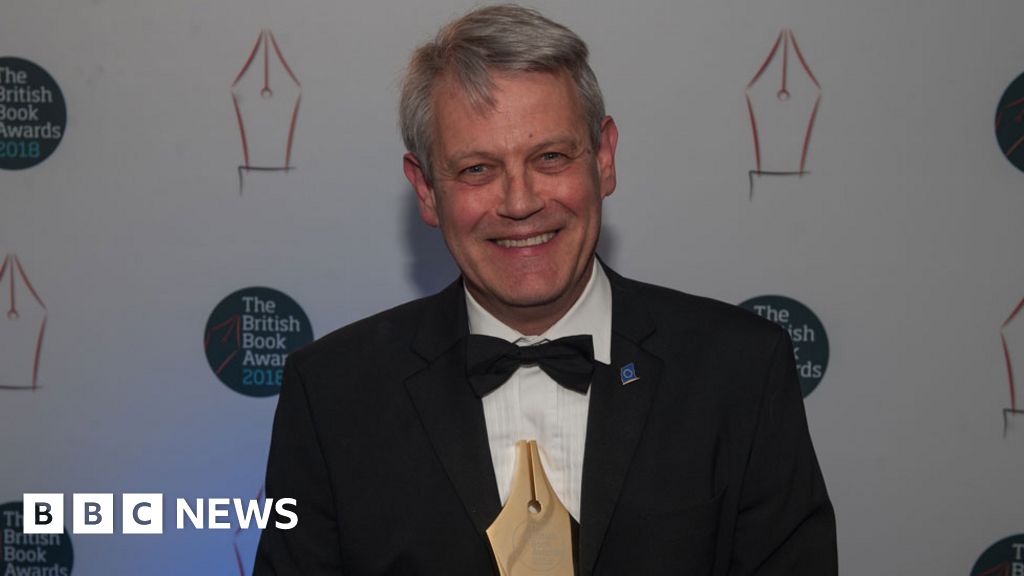 Children's book illustrator Axel Scheffler has hit out at Brexit as he picked up the illustrator of the year prize at the British Book Awards.
German-born Scheffler is best known for his work on Julia Donaldson's books, including The Gruffalo series.
"I can't pretend it's business as usual. It's just 10 months until 'Freedom Day' – next March," he said.
"Worst-case scenario, I might not be allowed to stay here by the time my next book with Julia is launched."
The UK is due to leave the EU on 29 March 2019.
Scheffler said: "The UK has been my home for 36 years. There would have been no Gruffalo without the EU facilitating my study here.
"And, even if I had, somehow, studied in the UK, I would have had to leave after my studies ended in 1985. So there would never have been the successful Anglo-German joint venture Donaldson-Scheffler."
Scheffler said he was "very grateful" for the award and "to the judges who chose me, a foreign EU citizen in Brexit times – that's a nice gesture".
He added: "But I also accept it with a heavy heart and maybe even a slightly bitter feeling – it feels like a consolation prize. Or even a farewell gift."
He quoted writer Michael Morpurgo who "wrote movingly, 'My uncles fought for peace, not for Brexit'."
"He wrote that Britain doesn't really like the rest of Europe. And he's right. That hurts and it makes me angry every day."
He also referred to The Tiger Who Came to Tea author, Judith Kerr, who was at the event on Monday evening.
"I would like to mention another person who came from Germany under completely different circumstances who is here tonight: my friend, Judith Kerr.
"Here, in this room, you have a refugee from the Nazis and a peace-time EU immigrant giving something for the families and the economy of the UK. But after the Brexit vote it feels, despite our contribution, as if this country is saying, 'It was all a mistake! We don't really want you after all'.
"A Brexiteer would, of course, say, 'Of course we want them when they make money for us'. But how can you gauge the future contribution of a young girl, as Judith was when she came here, or a 25-year-old student, as I was?"
He quipped that his and Donaldson's book The Room on the Broom wasn't called No Room on the Broom.
Other winners at the British Book Awards included Philip Pullman, who was named author of the year for his "outstanding" success.
The children's author was recognised after returning to the world of his Dark Materials with La Belle Sauvage last year. Awards organisers described Pullman as a "true one-off".
Gail Honeyman won book of the year for her best-selling debut Eleanor Oliphant is Completely Fine.
Judges said it was "brilliantly written" and "the complete package".
The novel, which was the second biggest-selling debut of 2017, won the debut book of the year award and then beat six other category winners to be named overall book of the year.
The winners across the seven categories for author of the year were:
Fiction: Reservoir 13 by Jon McGregor (Fourth Estate)
Debut: Eleanor Oliphant is Completely Fine by Gail Honeyman (Harper Fiction)
Crime and thriller: The Dry by Jane Harper (Abacus)
Narrative: Why I'm No Longer Talking to White People About Race by Reni Eddo-Lodge (Bloomsbury Circus)
Lifestyle: 5 Ingredients by Jamie Oliver (Michael Joseph)
Children's: The Lost Words by Robert Macfarlane, illustrated by Jackie Morris (Penguin Random House Children's) and The Hate U Give by Angie Thomas (Walker Books)
Audiobook: La Belle Sauvage: The Book of Dust by Philip Pullman, narrated by Michael Sheen (Penguin Random House UK Audio)
The judges of the British Book Awards, organised by The Bookseller, could not choose between two books in the children's category – and named them as joint winners.
Young adult novel The Hate U Give, by Angie Thomas, tells the story of a 16-year-old drawn to activism after witnessing the police shooting of her unarmed friend.
Meanwhile, The Lost Words – an illustrated poem collection by Robert Macfarlane, illustrated by Jackie Morris – aimed to reconnect young children with natural world.
---
Follow us on Facebook, on Twitter @BBCNewsEnts, or on Instagram at bbcnewsents. If you have a story suggestion email entertainment.news@bbc.co.uk.