Gambling firms agree 'whistle-to-whistle' television sport advertising ban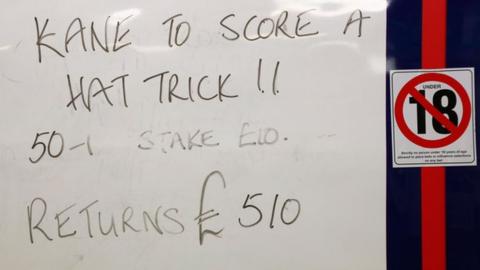 Britain's biggest gambling companies have voluntarily agreed to a "whistle-to-whistle" television advertising ban.
The Remote Gambling Association (RGA), which includes Bet365, Ladbrokes and Paddy Power, has struck a deal to stop adverts during live sports broadcasts.
It follows political pressure about the amount of betting advertising on TV.
More than 90 minutes of adverts were shown during the football World Cup and anti-gambling campaigners say sport's use of adverts "normalises" betting.
There are also fears it contributes to the rise in the amount of problem gamblers – with a Gambling Commission report suggesting 430,000 Britons can be described as such – and helps fuel under-age gambling.
The deal follows extensive talks between firms – also including SkyBet, Betfred, Betfair, Stan James, Gala Coral and William Hill – to ensure no adverts will be broadcast for a defined period before and after a game is broadcast.
The proposal is similar to those made by the Labour party and, importantly, will include any game that starts prior to the 9pm watershed but ends after that time.
The RGA has previously said it was "very mindful of public concerns".
Horse racing will be exempt from the restrictions – given the commercial importance of gambling on its viability – but all other sports will be included.
However, it is the impact on football where the ban will be felt the most, especially given the financial value of the sport to both the gambling companies and broadcasters.
Nearly 60% of clubs in England's top two divisions have gambling companies as shirt sponsors.
Final ratification is needed from the Industry Group for Responsible Gambling (IGRG) before the ban comes into force.
That should be a formality, according to industry insiders, and could come as early as this month or in early 2019.