England World Cup squad not a gamble – Southgate
England's World Cup squad is not a gamble despite it being their third youngest in the tournament's history, says manager Gareth Southgate.
He named a 23-man squad for Russia on Wednesday, including uncapped 19-year-old defender Trent Alexander-Arnold.
"I don't see it as a gamble and I don't think being free of inhibition is gambling," said Southgate.
England start their Group G campaign against Tunisia on 18 June, before games against Panama and Belgium.
Southgate countered former England captain Gary Lineker's suggestion the tournament should be seen as nothing more than a learning curve.
"I don't think when you play or are involved with England you can ever write off any game or any tournament. That wouldn't be acceptable," he said.
"We think this is the best group of players available, we think they can be very exciting now and even more exciting in the future.
"I don't want to limit what they think is possible because they're young and hungry and they want to have a go at things."
In his first news conference since announcing the squad, Southgate also said:
He would discuss the captaincy when the players meet up on Sunday.
It was "not the end of the road" for goalkeeper Joe Hart, who was left out of the squad.
He had picked the best three keepers in the country this year.
Arsenal midfielder Jack Wilshere, who also missed out, was not as effective towards the end of the season.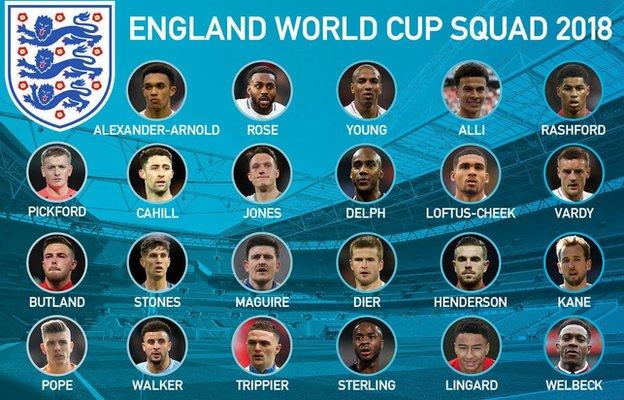 Belief in 'fearless' England
Southgate accepted England will lack the experience of tournament favourites Brazil, Germany, Spain and France, but lamented the lack of English players in the Premier League to choose from.
"Maybe it is brave to take players without the number of caps, but we have to give these guys belief," he said.
"We pick from 33% of the league, which is quite a unique situation, but there is excitement with where we are going."
The squad have made 449 international appearances between them at an average of 19.5, and Gary Cahill (58) is the only player with more than 40 caps, but the manager has faith in his selections.
He said: "I think it's being fearless in how we want to play, being brave enough to put people in and not think, 'well, he's the best player but he's young, maybe we should pick a lesser player who's a bit more experienced.'
"You can make excuses at times for not putting young people in, accepting that they will make mistakes because of the way we were asking them to play, but I will take responsibility for that. It's important for me to allow them to go and perform."
Door open for Hart return
Manchester City goalkeeper Hart, 31, has won 75 caps and was England's first-choice goalkeeper at the past three major tournaments but has endured a difficult season, conceding 39 goals in 19 Premier League games on loan at West Ham.
He was the odd man out as Jordan Pickford, Jack Butland and Nick Pope – who have a total of nine caps between them – earned selection for the trip to Russia.
"Of course it was a difficult call. He played in most of our qualifying matches, he's been a big part of the England team the last few years and he's a valued member of the squad," said Southgate.
"But in the end I've got to look at performances over the last 18 months with their clubs and the three lads we picked were the three best goalkeepers in the league this year."
Asked about Hart's future prospects, he added: "I pick players on form and if he's playing well for his club, why wouldn't we select him?
"There's no reason for this to be the end. He has an important career decision this summer and I hope he can be back at his very best."
Of Wilshere he said: "Jack had a good spell leading up to Christmas and just after, but was maybe not as effective towards the end of the season."
Southgate praised the "personality and ability" of Alexander-Arnold and revealed how close his Liverpool team-mate Adam Lallana, who is on the standby list after recovering from injury, came to being included
"It has been a frustrating season for him. Under normal circumstances he wouldn't be anywhere near the squad but he is a player we have a lot of time for," he added.
Southgate said he would "think in more detail" about the captaincy. Jordan Henderson, Harry Kane and Eric Dier have all been skipper over the past year.
England's key World Cup dates
2 June
v Nigeria (friendly)
7 June
v Costa Rica (friendly)
12 June
Squad leaves for Russia
18 June
v Tunisia (opening group game)
24 June
v Panama (second group game)
28 June
v Belgium (final group game)